Here are several gifts that celebrate our many years together. Enjoy!
Free Score
&

Recording of Help Us, O God

Download James' setting of George Regas' Sermon Prayer, recorded by Coventry Choir on Sunday, June 11, 2017. The work premiered on April 30, 1995, for Regas' final service at All Saints.

Add Help Us, O God to your listening library, available for your mobile device, tablet and computer.
walker-help-us-o-god.mp3 (101 downloads)

Download the music score to follow along as you listen. Duplicate copies for your own performances.
walker-help-us-o-god.pdf (49 downloads)
Music at All Saints, 1991–2017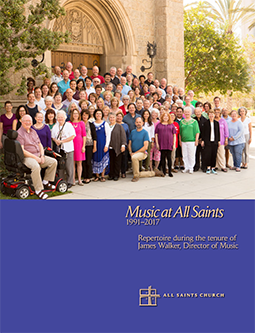 We've collected a catalog of repertoire from each program year of James' tenure as Director of Music. All in one easy-​to-​search pdf.
This update adds a list of all works by composer and fills in performances missing from the April 2017 version.
music-all-saints-2017–0614.pdf (172 downloads)
4300+ anthems performed (not counting Summer Choir)
1249 musical works (not counting organ voluntaries)
517 composers and arrangers
357 choristers
258 compositions new to All Saints
97 works premiered at All Saints
27 soloists/​section leaders
4 Associate Organists
3 Rectors
2 Children's and Youth Choir Directors
Organ Voluntaries at All Saints, 1981–1990
At the end of every program year, I made a list of music played. Here's a .pdf document of those early years on the All Saints organ bench.
voluntaries-1983–1990.pdf (28 downloads)
Music at All Saints, 1926–1931
Look what I found while packing up my office. In All Saints' early years and up to when I started in 1983, 20-​minute preludes were the norm on Sunday mornings, as well as evening recitals before Evensongs. Other Sunday activities for Pasadena folks were probably few (except for picking oranges down the street). So the church provided the entertainment, even for Vespers at the Huntington Hotel.
music-all-saints-1926–1931a.pdf (25 downloads)
Tuesday, June 27, 2017
©2017 Paul Dupree