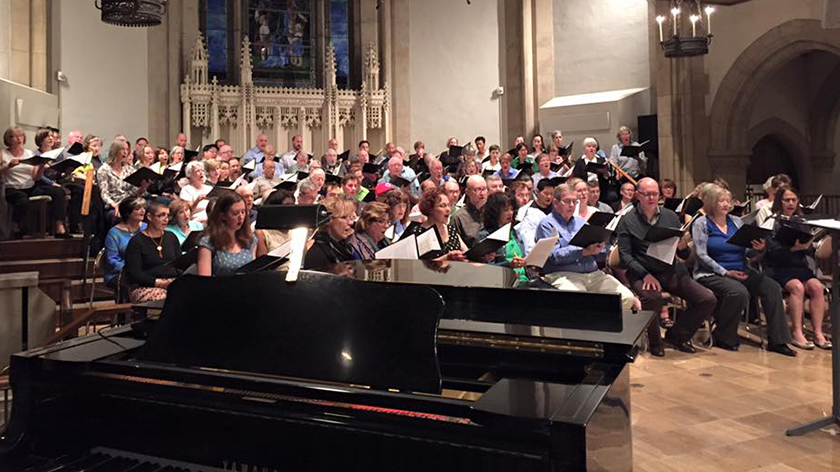 Just last week, Canterbury and Coventry choirs of All Saints Church opened the 2016 Western Division Conference of the American Choral Directors Association.
We offered a stirring Evensong on Wednesday evening, February 24. Over 100 of our singers filled the All Saints chancel, and several hundred ACDA members attended. The rector of All Saints, Ed Bacon, presided.
Last summer, when Nick Strimple and Donald Brinegar extended the invitation on behalf of the ACDA, I was very excited to pursue the possibilities. It is an enormous honor to be invited by ACDA to perform at a conference, and it was made to clear to me in those conversations that the work of the All Saints choirs is highly respected in the wider professional choral music community and that these professionals converging in Pasadena from the western states wanted to hear us.
Although scheduling was complicated (especially since the service was to be held right in the middle of Lent), I made the decision to include both our adult choirs.
William Grant Still

Reverie


Weicheng Zhao

Bill Cunliffe

Hymn: God of Glory, God of Peace

Robert Knox Kennedy

Psalm: 46

Bruce Neswick

Magnificat

Nick Strimple

Nunc dimittis

Bill Cunliffe

O Still, Small Voice of Calm

Gwyneth Walker

God Speaks to Each of Us

C. Hubert H. Parry

I Was Glad When They Said Unto Me

Traditional Welsh Melody

Hymn: Day Is Done

Eugène Gigout

Toccata


Weicheng Zhao
What a thrill and a wondrous challenge it was to prepare our two amazing All Saints adult choirs for this event. It makes my heart glad that we have a wonderful reputation, and I take that honor very seriously.
Since the ACDA specifically asked that we offer a traditional Episcopal Evensong, the general form of that service guided the choice of repertoire. In making these choices, I also wanted to offer a glimpse into the diversity of our choral repertoire.
We also wanted maximum ACDA participation, so printed in the program were the complete Strimple and Parry anthems. And we definitely blew the roof off the church, with all of us singing the Parry together. We also sang Bill Cunliffe's thrilling hymn setting of George Herbert's text "God of Glory, God of Peace" and an Anglican chant Psalm, and we closed the service with a Welsh hymn, unaccompanied.
Besides accompanying the anthems with brilliance and creativity, Weicheng Zhao, our esteemed associate organist-​choirmaster, played William Grant Still's Reverie as the opening voluntary and Eugène Gigout's Toccata as the closing voluntary.
It was an evening to remember.
Sunday, February 28, 2016
©2016 Jenny Tisi