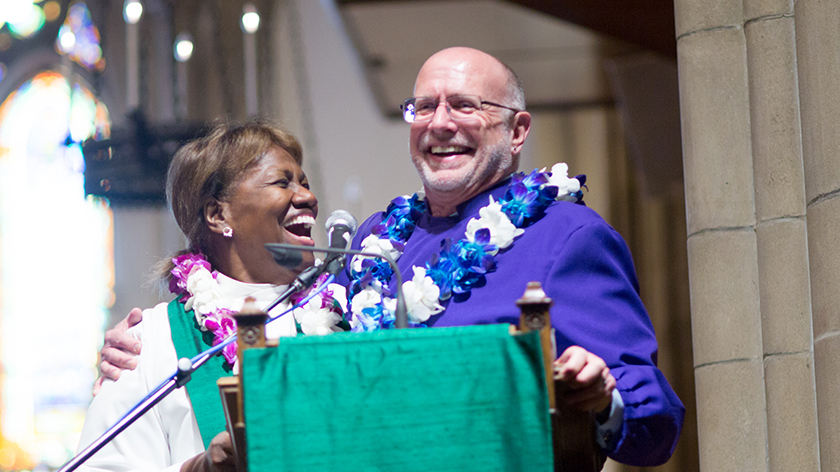 I took up permanent residence in the basement of 132 North Euclid Avenue in February of 1983, when I was 26 years old.
You could say that I've spent the majority of my waking hours the past 34 years underground, and over these many years, with your help, I've learned a few things.
I walked into my very first Coventry Choir rehearsal on the 3rd Thursday of February, 1983. The choir had been asked to come half an hour early, for a discussion led by the Rector, George Regas, with his executive assistant Anne Peterson and the one female priest on staff, Frannie Hall.
The conversation engaged a controversy in the choir over a change in the text of a Rachmaninoff anthem from "Blessed is the Man" to "Blessed is the One." It was a wonderfully strange, yet illuminating discussion about the power of language, open-​mindedness, resistance to change, and inclusion.
Observing the proceedings from a seat off to the side of the choir room, I thought, "What have I gotten myself into?"
And I've asked that question, in one form or another, every day for the past 34 years… and I have rejoiced in the question.
Watch the sermon on YouTube
Expect to grow
For this is my first reflection for you, as I leave this community: Expect to grow.
Expect to have your mind challenged. Expect to have your heart expanded.
Cherish that dynamic openness to exploring faith together that is the heartbeat of All Saints Church, where we can search for truth and find our way to God in differing ways, struggle with and embrace our differences, sing each others' songs, and come to the altar rail together… week after week.
Expect to grow.
Live in love
Reflection #2 from the basement, wisdom from the book of Ephesians: "As beloved children, live in love."
Choosing to love is a courageous act. I pray every day that I will find the courage to make my life a blessing, to live in love.
This begins with the difficult task of accepting my own beloved nature, and I believe that we need the help of community in affirming that belovedness.
Another story from my early years at All Saints:
Right before my 29th birthday, I summoned the courage to "come out" to my family, because living as a closeted gay man had become unbearable.
That empowering act was also profoundly painful, as that news was not whole-​heartedly embraced by my family, and we struggled for several years, ultimately to a wonderfully joyous and healthy place. (Thanks be to God.)
But that Christmas Eve of 1985, I was in a pretty bad place, and I remember running into George Regas after the 4:00 PM Family Service. He had some sense of my struggles and could certainly read it on my face that night.
I will never forget George pointing his finger at me and telling me in the most commanding manner: "Jim, you are a loved man, and you had better believe that."
I was upheld and strengthened throughout that journey, and many others over the years, by this community.
Remind each other of our beloved nature, often, and with great conviction.
"You are loved, and you had better believe that!"
To your very core, accept the blessedness of being a beloved child of God, and through that, find the courage to make your life a blessing.
Live in love.
Keep perspective
It is hard work that we do here. When we're at our best, All Saints, we're doing work that engages life at its deepest places.
And literally, lives are at stake. You know that.
And, it is so easy to become distracted and to lose sight of what is truly important.
Over these 34 years, I have worked with hundreds and hundreds of staff colleagues (building & grounds personnel, priests, administrative assistants, musicians and program directors) — all of whom have touched my life in some way with their unique gifts.
Some were more fun to work with than others.
And while I have taken our work here very seriously, I have found it invaluable to keep a sense of humor and to laugh often.
Many colleagues have asked me directly how I have managed to keep a positive attitude after many years of working in the church, as any institution has its foibles, bureaucratic annoyances, personality conflicts and other challenges.
There are many answers to that inquiry about keeping positive, including the foundation of prayer and the incredible life-​saving gift of making music. But also central to this has been keeping my perspective.
As issues arise, to simply stop and ask the question, "Is this really important?"
Yes, dealing with issues as they arise, but not getting stuck on them. And that also takes some courage.
One of the most wonderful aspects of my 21 years of a close working relationship with Ed Bacon was his encouragement of my growth in finding my voice of disagreement and learning the tools to communicate about those disagreements effectively… and receiving constructive critique without taking it personally.
Keeping perspective, keeping the eye on what is truly important, dealing with issues that need to be addressed, but not getting distracted by relatively minor frustrations.
Keep perspective.
Express gratitude
Fourth and Final Reflection from the Basement: Express gratitude.
It doesn't take anything away from our being to be thankful. In fact, living a life focused in gratitude expands the heart.
Kindness seems to be in short supply in our society these days. Don't miss opportunities to express appreciation.
So allow me to express some gratitude, in this moment.
I am deeply grateful to you, the All Saints congregation, for your love and encouragement over these 34 years.
I have been with you in your most joy-​filled celebrations and in the times of your profound grief, and I am honored to have shared in all of those moments with you.
Together we have worshiped God — with joy, with reverence, with boisterous color and with solemn reflection — and we have been faithful vessels of new life created through justice, inclusion, love, peace and reconciliation — all with much laughter and many tears, in community.
I am deeply grateful to the choirs — children, youth and adults. Working every week with our two magnificent adult choirs (working with all of you and with Canterbury Choir) has been my greatest joy.
These wonderful and often-​wacky saints volunteer an average of 7 hours every week (not including driving time from Fontana and Riverside, from San Juan Capistrano and Yorba Linda, from Moorpark and Valencia, from Culver City, West Hollywood, and yes, Pasadena).
Their dedication and talent has been a constant inspiration, as they have energetically led our worship with great variety, color and reverence.
The growth of both choirs over the years — in excellence, faith, mission and community — has been the source of the greatest inspiration and hope.
I am honored to have worked with three outstanding rectors, and I'm particularly grateful — in this moment — for Mike Kinman, from whom I have learned so much in just these 8 months. You have been so gracious and pastoral in this transition to my next chapter and I thank you.
And to the countless staff colleagues during my tenure, I am deeply grateful for all that collegial talent, so freely shared, which made each day of work an experience of growth for me.
JW: All Saints has been my home for most of my life,

Zelda Kennedy: And I've also grown up here (I've been ordained for 17 years, and 14 of those have been at All Saints). James and I will always hold this extraordinary church in our hearts and in our prayers.
JW: We are already thrilled with the new chapter that All Saints Church has begun,
ZK: And we know that God has great things in store for this faith community.
Together: We wish you all God's blessings and joy in the coming years. Amen.
Sunday, June 25, 2017
©2017 Cam Sanders