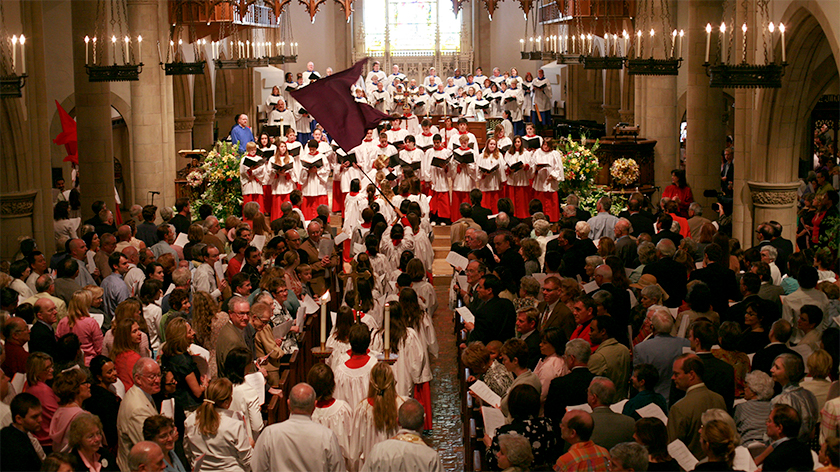 Join us for reflection, meditation and celebration. Here are our musical offerings to help find your path to the healing, restoring waters of God.
NEW — denotes new work for All Saints choirs
DAY, DATE

&

TIME
MUSICIANS
REPERTOIRE
Wed, Mar 1

7:30 PM

Canterbury

Ash Wednesday

William Byrd

I Have Longed for Thy Saving Health

Wolfgang Amadeus Mozart

Ave verum corpus

Plainsong

Psalm 51

Sun, Mar 5 9:00

&

11:15 AM
Coventry

Lent I

Archbishop Thomas Cranmer

The Great Litany

Vincent Robles

Gregorio Allegri

Miserere mei

Francisco Guererro

Quiere Dios que le ofrezcamos

Sun, Mar 12 9:00

&

11:15 AM TIME CHANGE
Canterbury; at 9:00 AM: Minisingers

&

Mastersingers

Lent II

David V. Montoya

Nada te turbe

Arranged by Alice Parker and Robert Shaw

Wondrous Love

Sun, Mar 12

5:00 PM

Bill Cunliffe's BACHanalia, Denise Donstelli, Dawn Bishop
Sun, Mar 19 9:00

&

11:15 AM
Coventry, Trouvères

Lent III

Herbert Howells

Like as the Hart Desireth the Waterbrooks

Spiritual arranged by Moses Hogan

There Is a Balm in Gilead

Kelci Hahn

Sun, Mar 19

5:00 PM

Youth Chamber Choir, Vox Cambiata

Contemplative Eucharist
Enjoy music, silence and the beauty of our church's architecture.

Sat, Mar 25

9:00 AM–Noon

Lenten Quiet Day
Spend time in quiet reflection as we work towards the transformation and renewal of our minds and spirits. Free to all, registration requested.

Sun, Mar 26 9:00

&

11:15 AM
Canterbury

Lent IV

Luhya Spiritual arranged by David Zalo Okuku

Yesu Wainyanza

Bobby McFerrin

The 23rd Psalm

Sun, Mar 26

5:00 PM

Coventry, Chamber Ensemble

Johann Sebastian Bach

Cantata 106: Gottes Zeit ist die allerbeste Zeit

Kelci Hahn, Serena Eichhorn, Daniel Ramon, Vincent Robles

Plainsong

Magnificat and Nunc dimittis

James Walker

Psalm 46

Sun, Apr 2 9:00

&

11:15 AM
Canterbury

Lent V

Debra Scroggins

Out of the Depths

NEW

Bill Cunliffe

Agnus Dei from Mass
Holy Week and Easter Services
Commit yourself to walk with Jesus this week. The services of Holy Week commemorate Jesus' descent into death before the great miracle of Easter. The crowds' cheers at Jesus' triumphal parade into Jerusalem on Palm Sunday turn to jeers and the demand for his blood on Good Friday. If you allow yourself to descend to the depths of despair in what seem to be Jesus' final hours, you will experience in new ways the incomparable power of the resurrection of Easter. Daily Eucharist traces the journey, building through Maundy Thursday and Good Friday to the triumph of Easter.
DAY, DATE

&

TIME
MUSICIANS
REPERTOIRE
Sun, Apr 9 9:00

&

11:15 AM
Coventry; at 9:00 AM: Minisingers, Mastersingers, and Vox Cambiata; at 11:15 AM: Trouvères Trebles

Sunday of the Passion, Palm Sunday
Begin your Holy Week with the waving of palms during the grand procession followed by a dramatic telling of the Gospel.

Pablo Casals

O vos omnes

Johann Sebastian Bach

O Lord, Thy Little Angel Send

Thu, Apr 13

7:30 PM

Trouvères

Maundy Thursday
A beautiful evening service recalls the last supper Jesus shared with his disciples. The congregation is invited to participate in the washing of the feet, symbolic of the servant ministry Jesus instituted with the disciples. This is a Spanish/​English liturgy. Prayer, meditation and reflection vigil follows the service. The labyrinth is available. Parking is available at Plaza Las Fuentes.

Fri, Apr 14


Noon–3:00 PM

Canterbury, Coventry

This service commemorating the passion and death of Jesus is a major moment in Holy Week. The rector and members of the clergy staff offer five meditations on the meaning of the crucifixion in our own time. Each meditation is part of a fabric of worship and reflection that includes hymns, scripture, prayers and silence. Parking is available at Plaza Las Fuentes. Signs and parking attendants will direct you.
Canterbury Choir

Debra Scroggins

Out of the Depths

NEW

Arranged by Alice Parker and Robert Shaw

Wondrous Love

Anton Bruckner

Pange lingua

David V. Montoya

Nada te turbe
Coventry Choir

Pablo Casals

O vos omnes

Spiritual arranged by Moses Hogan

There Is a Balm in Gilead

Kelci Hahn

Herbert Howells

Like as the Hart Desireth the Waterbrooks

Antonin Dvorak

Eia, Mater from Stabat Mater

Plainsong

Crux fidelis

Spiritual arranged by Moses Hogan

We Shall Walk Through the Valley In Peace

Fri, Apr 14

6:00 PM

Stations of the Cross — A Journey Through Pasadena
We journey through Pasadena and recreate events that encompassed Jesus' journey carrying his cross from the Hall of Pilate where he was condemned to death to the site of his execution on Golgotha, reflecting, and praying at each station. This is a Bilingual Spanish/​English service that begins on the Quad Lawn.

Fri, Apr 14

7:30 PM

Coventry Renaissance Singers

This ancient candlelight service commemorates the somber in-​between-​time of waiting, offering an opportunity to grieve Jesus' death and sense a glimmer of hope of the resurrection. Parking is available at Plaza Las Fuentes.

Plainsong

Lamentations of Jeremiah

Vincent Robles

Plainsong

In monte oliveti

Tomás Luis de Victoria

Astiterunt Reges

Giovanni Croce

Tenebrae factae sunt

Felice Anerio

Christus factus est

Sat, Apr 15

4:00 PM

Troubadours

Children's Vigil

&

Infant Baptism
Celebrate the conclusion of Holy Week and beginning of Easter with children leading this service through reading and music with infant and child baptisms. Bring a bell to ring at the Easter proclamation!

Sat, Apr 15

7:30 PM

Canterbury Chamber Singers

Great Vigil of Easter
The service begins in the street with the kindling of the fire and lighting of the Paschal candle, then proceeds into the Church to experience the stories of our faith and to baptize adults by candlelight. You're invited to bring bells to ring during the Gloria. The journey continues into the Church to welcome new members into All Saints, and celebrate the first Eucharist of Easter. Parking is available in the Plaza Las Fuentes. Note: Incense will be used at this service.

William Billings

Easter Anthem

Sun, Apr 16 7:00

&

9:00 AM
Coventry; at 9:00 AM: Trouvères

The rector preaches in the midst of a blaze of candles, lilies and trumpets. Normal Sunday parking is available in Kaiser and Plaza Las Fuentes. Plaza parking is free only until 1:00 PM.

Craig Phillips

On This Bright Easter Morn

Grayston Ives

Missa Brevis




Gloria · Sanctus/​Benedictus

Kelci Hahn, Daniel Ramon

Johannes Brahms

Magdalena

Sun, Apr 16

11:15 AM

Canterbury, Trouvères

The rector preaches in the midst of a blaze of candles, lilies and trumpets. Normal Sunday parking is available in Kaiser and Plaza Las Fuentes. Plaza parking is free only until 1:00 PM.

Ludwig van Beethoven

Hallelujah from The Mount of Olives

Bill Cunliffe

Mass




Gloria · Sanctus/​Benedictus

Johannes Brahms

Magdalena
Monday, February 13, 2017
©2008 Cam Sanders